Upcoming workshops 2024
Synopsis workshops August 2023, date and time to follow soon.
What is a Fastaval scenario?
Role-playing is a core activity at Fastaval and the congress has a unique tradition of writing and designing role-playing games. A roleplaying experience at Fastaval is often called a scenario. A scenario is characterized by the fact that it is a written, self-contained role-playing experience for 2+ participants, usually lasting between 2-6 hours.
A scenario has at least five runs, often more, divided over two blocks of time, and GMs can be both volunteer participants, or recruited by the author or the organizers. So people you have never met might run your game.
Scenarios are not limited to any particular genre, system, or themes. Many games have similar styles as Nordic LARP, although Fastaval is mostly a table-top or chamber LARP convention. There is definitely also room for system role-playing and dice rolls at Fastaval, but as a writer you should prepare for the fact that people should preferably be able to participate in your scenario, without preparation or knowledge of a particular system, setting or genre.
Although most Fastaval scenarios are tabletop, we would very much like to also have LARP on the program. A Fastaval LARP can be minimalistic in its use of costumes and props, but if you have some wild ideas you can talk to us about what might be possible. Props and other equipment are most probably something you should bring yourself.
Role-playing at Fastaval has a huge diversity both in design and content and Fastaval is a good place to make role-playing games if you want to experiment a bit with role-playing as a medium, but we also really want classic system role-playing games. The scenarios can be grave, imaginative, or action-adventure comedies and there is room for everything from Call of Cthulhu, investigation, love stories, surrealism and historical drama.
You can see last years program here, as an example here.
Scroll down to read more about synopses and how to become a scenario writer
How to become a scenariowriter
If you want to write a scenario for next year's Fastaval, you must by 25. August 2023 send a synopsis to scenarieansvarlige@fastaval.dk.
A synopsis is a short text of 1-2 pages that outlines the story, structure, and features of the scenario. The synopsis is the place where you explain what kind of experience the players will have and why it will be engaging to play. It is from the synopsis that we select which scenarios to include in next year's Fastaval programme.
Workshops and sparring
Throughout the summer and autumn, the scenario coordinators will facilitate a series of workshops, some online others physically, about different parts of the scenario writing process. These events are both for new and experienced writers.
For the authors that are accepted to be part of this years Fastaval, there will be the option to get a sparring partner that can help and give feedback throughout the scenario writing process.
Read more about these workshops as well as dates further down.
Deadlines
The synopses should be sent to the scenario coordinators Nina Runa Essendrop and Danny Wilson at the email address: scenarieansvarlige@fastaval.dk latest Friday 25 August 2023 at 23:59 (CET)
We will respond around September 7. Shortly thereafter we will present this years scenarios on Fastaval.dk.
The finalised scenarios must be submitted to the scenario organizers by 23:59 (CET) on Sunday 28 January 2024
Workshops and sparring
What the synopsis should contain
Tips for writing the synopsis
Rules
How the scenarios are chosen
About being a scenario writer
About the scenario coordinators
Frequently asked questions
Workshops and sparring
April-August: Synopsissparring (mainly new authors)
If you haven't written a Fastaval scenario before, we would love to put you into contact with a synopsis sparring-partner. This is an experienced Fastaval author, who can help you, for example by reading through your synopses and giving you constructive criticism. We facilitate the contact and then you can agree on the specifics. Send us a mail at scenarieansvarlige@fastaval.dk, if you are interested
July-August: Synopsis workshops
Before the deadline for handing in your synopsis, there will be a synopsis workshop in Copenhagen and online. The first workshops are for sparring ideas, where everyone gets the opportunity to develop their idea together with the other participants. Keep a lookout on Fastavals Facebook or write to us, for more info.
September – February: Scenariosparring
If your scenario idea is selected for Fastaval 2023, the scenario coordinators will be happy to help you find an experienced sparring partner for the next part of the writing process. We also gather this year's field of writers in a Facebook group where you can exchange ideas and other things with each other. The deadline for submitting the ready-written scenario is on 28 January. There will also be a programme of workshops throughout autumn 2023, as well as a writers' weekend
What the synopsis should contain
Tips for writing the synopsis
Rules
How the scenarios are chosen
About being a scenario writer
About the scenario coordinators
Frequently asked questions
The scenario coordinators 2024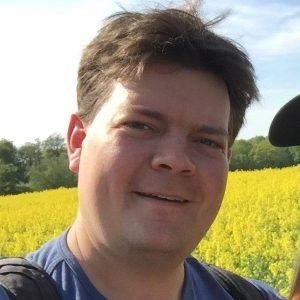 Nina Runa Essendrop & Danny Wilson have written multiple internationally acclaimed Fastaval-, Live action-, and Blackbox-scenarios, since their debut at Fastaval in 2012 and 2013 respectively. They have been looking forward to taking care of the new team of authors and the opportunity to facilitate the amazing community there is around Fastaval scenarios, like children looking forward to Christmas.
Contract us here:  scenarieansvarlige@fastaval.dk